AT4040XL - Aero Exhaust TurbineXL 4" Resonated Muffler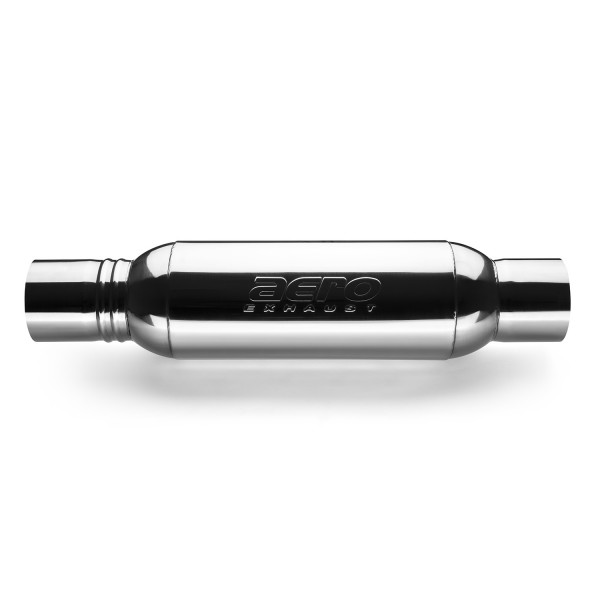 PLEASE READ!!!
Order Shipment Notice:
Most orders are shipped within 24 hours from the order date. Orders placed on the weekend or after cutoff on Friday, and orders placed on select holidays are processed on the next business day. Please see our shipping terms for more information.
Part # AT4040XL
Description:
The Aero Turbine 4040XL performance diesel muffler is the result of years of design and engineering. It has been proven to lower exhaust gas temperatures while increasing horsepower and torque. Many customers have told us that they have seen drastic increases in fuel mileage by installing the 4040XL on their diesel trucks. The 4040XL is built with a non-restrictive internal resonator that reduces rasp and drone. This resonated model will give you a more moderate exhaust tone with the same increases as the standard 4040.

The Aero Turbine XL muffler allows your engine to breathe easier and dramatically increases your vehicle's performance. When the incoming exhaust gas enter the Aero Turbine XL muffler it is rapidly expanded and split via our patented airfoil cone technology with an orifice like a jet engine. The air begins to spin because of the increased velocity and pressure transfer. The outer air stream then accelerates as is recombines with the inner air stream. The recombining of the air streams creates a vacuum that both muffles the exhaust sound and increases the exhaust flow, thus allowing your engine to breathe easier and dramatically increasing your vehicle's performance.

The Aero Turbine XL allows for more efficient combustion to create added power, rather than simply dumping more fuel into the engine. This muffler achieves incredible performance and improved gas mileage all while creating one of the smoothest, throaty sounds on the market. The hand-polished 304 stainless steel will give you the look and feel that you want and the performance you deserve.

SIZING:
4" ID Inlet
4" ID Outlet
6" Body Diameter
16" Body Length
26" Overall Length
The state of California requires that this warning be posted for people purchasing products that reside in California.
WARNING: Products may contain one or more chemicals known in the State of California to cause cancer and/or birth defects or other reproductive harm. For more information, visit www.P65Warnings.ca.gov