Banks Power PedalMonster Throttle Booster Ford F53 V10 Class-A (2010-2018)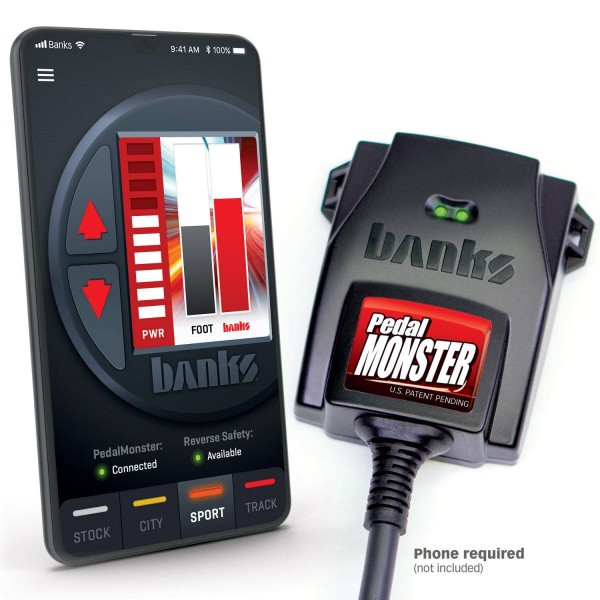 PLEASE READ!!!
Order Shipment Notice:
Most orders are shipped within 24 hours from the order date. Orders placed on the weekend or after cutoff on Friday, and orders placed on select holidays are processed on the next business day. Please see our shipping terms for more information.
Banks Power PedalMonster Throttle Booster Ford F53 V10 Class-A (2010-2018)
***IPhone or Android device required, does not include!***
Description:
Improves throttle response, adjustable and safe!
Bring your vehicle to life with PedalMonster. City, Sport, Track with 30 levels of control. The only OBD-II connected throttle sensitivity controller. Adjustable low-speed trim, reverse safety, and ActiveSafety circuitry included!
PedalMonster is the first OBD-II connected throttle sensitivity controller for vehicles. Controlled via mobile app, PedalMonster is the only module of its kind to offer safety features like ActiveSafety®, Reverse Safety and Adjustable Low-Speed Trim.
City, Sport, and Track modes, each with 10 sensitivity levels

OBD-II connected

ActiveSafety failsafe circuitry with Health Monitoring

Reverse safety returns pedal to stock in reverse gear

Adjustable Low-Speed Trim controls how fast sensitivity is added at slow speeds

Powered by +12V via OBD, not low-overhead pedal circuit

PedalMonster stacks with any flash or inline tuner

View PedalMonster's activity in real-time via mobile app

Simple plug-and-play installation

Warranty friendly. Does not leave footprint after removal.
Customize
City, Sport and Track, each with 10 levels of refinement, allows you to tune out "dead spots" found in many pedals, making your throttle more responsive. PedalMonster can be adjusted on-the-fly through the phone application. Simply take your foot off the pedal momentarily to adjust the mode or sensitivity level.
Safety
PedalMonster is the ONLY throttle sensitivity device with ActiveSafety®. In the event of an internal or external circuit failure, the system seamlessly returns the pedal to stock. When all other devices fail, they leave the vehicle inoperable leading to dangerous situations. Imagine losing power while passing on a two-lane road while heading into oncoming traffic.
All modern throttle pedals communicate with the vehicle's ECM via two distinct signals (APP1 and APP2). This is done for safety. PedalMonster's Health Monitoring constantly checks for signal linearity between these two signals and monitors input and output values. We monitor the health of PedalMonster 100 times a second. If the health monitoring system reveals any malfunction, the PedalMonster instantly bypasses itself, sets a device diagnostic code, and returns you to stock power.
PedalMonster's internal circuitry is powered by the reliable +12 volt OBD-II connector. Competitive devices draw current directly from the low-overhead +5 volt throttle pedal circuit, often rendering the vehicle inoperable leading to dangerous situations.
Adjustable Low-Speed Trim
This feature allows you to adjust the rate at which PedalMonster adds sensitivity at speeds under 10 mph. This helps to avoid spinning the tires in low speed turns or on slippery surfaces. While level 0 turns off low-speed trim, levels 2-5 increasingly minimize throttle boosting from 0-5 mph. By 10 mph PedalMonster will boost the throttle normally. This adjustment helps with low-speed drivability during parking lot maneuvering, icy roads, etc, while allowing you to use more an aggressive mode and level at the same time. For example, if you like Track mode but don't want to slip while driving slowly on icy roads, simply set the low-speed trim to Level 5.
Applications:
2010-2018 Ford F53 Class-A Motorhome - V10 - 3 Valve Head
The state of California requires that this warning be posted for people purchasing products that reside in California.
WARNING: Products may contain one or more chemicals known in the State of California to cause cancer and/or birth defects or other reproductive harm. For more information, visit www.P65Warnings.ca.gov