Roadmaster Towing Package - Up To 6000 lbs - Coach With Air Brakes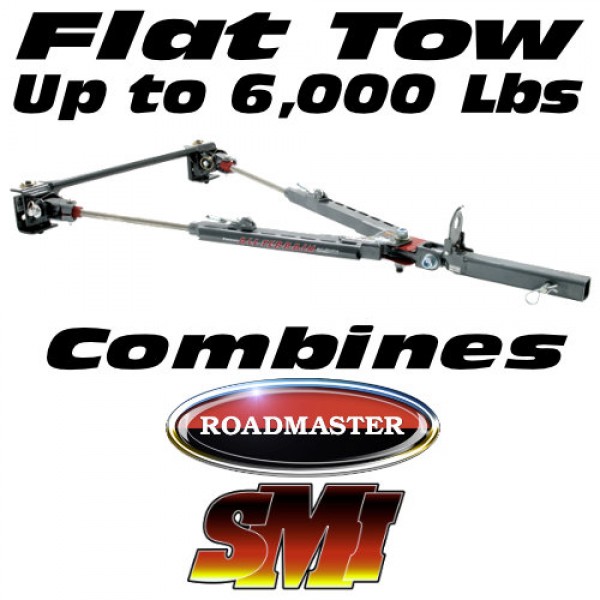 PLEASE READ!!!
Order Shipment Notice:
Most orders are shipped within 24 hours from the order date. Orders placed on the weekend or after cutoff on Friday, and orders placed on select holidays are processed on the next business day. Please see our shipping terms for more information.
This towing package is for a tow vehicle that has a total weight up to 6000 pounds, and has a coach with air brakes.
This Package Includes:
There's only one number one and this is it. Freedom Latch™ non-binding technology, a patented storage latch and ROADMASTER's well-deserved reputation for reliability are just a few of the reasons the Falcon All-Terrain is the best-selling tow bar in the world.
• One-person quick-connect and disconnect
At the towed vehicle…
Thanks to an exclusive, self-supporting quick-disconnect system, one person can easily connect or disconnect the Falcon All-Terrain in seconds. (These baseplates also make it extremely easy to attach accessories such as the Guardian™, Stowaway and the Tow Defender).

And at the motorhome…
Telescoping, independently-adjustable inner arms are easy to maneuver into position. Simply pin them in place and then drive your motorhome away and the arms automatically center and lock in place.
• The largest hook-up radius in the industry means you don't waste time lining up your towed vehicle. You can't say this about many things in life but connecting the Falcon All-Terrain is just like horseshoes — "close" is good enough!
• Self-lubricating nylon bushings eliminate friction between the inner and outer arms for smooth, easy operation. Other tow bars have steel riding on steel.
• Patented storage latch
Simply fold the Falcon All-Terrain toward the motorhome and the storage latch will click, automatically locking it in place. When you're ready to tow, just lift the tow bar up and press the storage latch to release the lock.
• Channel guides
The safety cables and power cord (not included) can both be routed through the built-in channel guides for protection against damage or dragging, and for a clean, uncluttered look. There's no need to wrap the cables or the power cord around the tow bar every morning.
• Motorhome-mounted
When you reach your destination, the Falcon All-Terrain conveniently stores out of the way on the back of the motorhome.
• No ball mount to drag
The Falcon All-Terrain mounts into a 2-inch receiver.
• Solid stainless steel inner arms
Solid stainless steel inner arms for smooth, trouble-free operation and easy maintenance. Stainless steel looks better, lasts longer and prevents corrosion that binds — ROADMASTER tow bars are the most rust-free in the industry.
• Full-length steel crossbar — reinforced for maximum support and safety.
• A lustrous, high-tech
powder coat finish
for maximum durability. This finish exceeds all 500-hour salt spray, high-impact and extreme weather standards. In this process, charged particles of pigment are sprayed onto the surface of the tow bar, then baked at more than 400 degrees. The paint fuses to the metal. The result is a uniform, thick and extremely durable finish — three times stronger than solvent-based paint.
Roadmaster offers two styles of base plates, they are listed below. When booking you need to select the style of baseplate that you would like in options section above.
Direct-Connect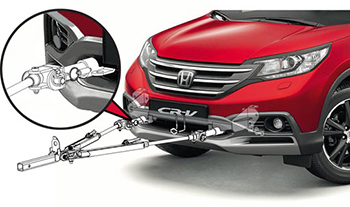 This style allows you to connect your tow bar directly to the baseplate, eliminating the need for a crossbar. This is our easiest system to connect and disconnect. If you are using a motorhome-mounted tow bar (except Sterling), this is the baseplate you should choose.

For a Sterling, Stowmaster, Tracker, Guardian Rock Shield, or Tow Defender part number 4700, use the Crossbar-Style shown below.

---
Crossbar-Style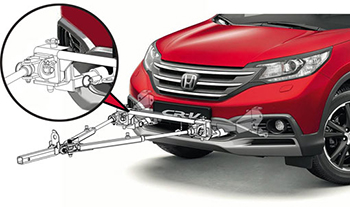 This style accommodates Roadmaster tow bars and accessories by utilizing the crossbar and/or quick-disconnect system as a mounting platform.

If you are using a Sterling or a car-mounted tow bar, you need this style of baseplate.
Contains 6 wire electrical cable, bulb and socket kit, 3-lock set, 4-diode kit and tow bar cover.

Description:
For any motorhome with air brakes (diesel pushers), universal fit allows use with any tow vehicle.
This is the newly released slim design Air Force One. It is about half the size of the original Air Force One enclosure, allowing for even more flexibility in mounting.
-Effective yet Invisible-
Air Force One uses a small amount of air from the coach's air brake system to create the vacuum necessary to activate the power brakes of the towed vehicle, and then applies the towed vehicle's brakes in a truly proportionate manner. As you apply the brakes in the coach, a proportionate amount of air is supplied to the Air Force One system to activate the towed vehicle's brakes. Because Air Force One uses the same air that brakes the coach, truly mirrored and proportionate braking is achieved in the towed vehicle. The Air Force One operating unit mounts under the hood of the towed vehicle, completely out of sight. The brake actuator is also very small and mounts on the brake arm of the towed vehicle. Once installed, the entire system is invisible and always ready for towing, with no set up or take down.
Total Coach Protection
Total Coach Protection exclusively with Air Force One is a process that protects the air supply on the coach. To meet federal regulations (FMVSS 121) when using air brakes, the supplemental brake system must protect the towing vehicle air supply. SMI includes the components necessary to meet these important safety regulations. If the towed vehicle separates or the towing system fails, the coach air is protected. Air Force One is the safest air brake system available. No other air-operated system offers this level of safety and control.
Coach Notification
Coach Notification is a vital part of all supplemental braking systems. A signal from the towed vehicle's brake light switch is used to alert you in the coach that the towed vehicle's brakes are applied. Coach Notification, combined with power-assisted brakes, a small operating unit, and 100% proportionate braking combine to make Air Force One the best choice for all diesel motor homes with air brakes.
Fits ALL Towed Vehicles!
No need to ask if Air Force One is compatible with your towed vehicle. Air Force One fits all makes and models – from the largest F-350 to the Hummer H2 and H3 and all hybrids -- Air Force One fits them all. Each Air Force One system comes complete with everything necessary for the installation on every towed vehicle. When you purchase a new towed vehicle, the Air Force One system is simply transferred to the new car without purchasing any new parts. This convenience comes only from SMI and Air Force One.
The state of California requires that this warning be posted for people purchasing products that reside in California.
WARNING: Products may contain one or more chemicals known in the State of California to cause cancer and/or birth defects or other reproductive harm. For more information, visit www.P65Warnings.ca.gov