Ford F53 11-15 V10 Performance Package Stage 3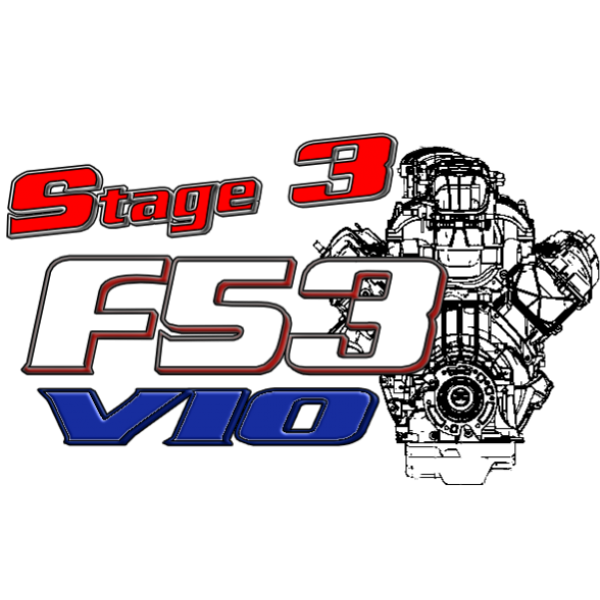 PLEASE READ!!!
Order Shipment Notice:
Most orders are shipped within 24 hours from the order date. Orders placed on the weekend or after cutoff on Friday, and orders placed on select holidays are processed on the next business day. Please see our shipping terms for more information.
Ford V10 UltraPower Custom Tuning
Part# UPFORD
Description:
UltraPower Custom Programming is the best modification you can make to your Ford 6.8L V10 for both performance and fuel economy for the price. For example, from the factory the V10 engine is detuned and in the 2V application (99-05), the fuel system will not go into Power Enrichment, or Open Loop, so you will never achieve maximum power when climbing hills. Probably the most noticeable difference will be the elimination of the annoying downshifts that occur at even the slightest of hills. Because of the changes made to both the engine and transmission, you will be able to maintain higher gears for much longer and under a higher load...this alone makes a great deal of difference in driving comfort. UltraPower Custom Tuning also works very well in conjunction with aftermarket headers, exhaust and intake, such as the Banks PowerPack.
Applications:
· 1997-2019 Ford 6.8L V10 Engine
· Both 2 & 3 Valve Applications
· Used in Ford Trucks and RV Chassis
Benefits:
· Gains of 40-55 HP and 45-70 lbs TQ
· Gains of 1/2 - 1 MPG
· Downshifts much less approaching hills
· 60 days of tune preference changes. If you want something changed or modified after 60 days you will need to purchase our Tune Update for $50.
49191 Banks Power Ram-air Intake Ford F53 Class-A 06-19 V10
Part # 49191
Description:
Open up your 6.8L's breathing with the Banks Ram-Air intake system. With its giant air filter housing, lifetime high-flow filter and streamlined tubing, Banks Ram-Air outflows stock by up to 60% for greater power and improved fuel efficiency. Banks' bellows accommodate engine movement, preventing component damage and prolonging service life. Meticulously tested by Banks engineers, Banks Ram-Air Intakes are triple validated before the name "Banks" is stamped on.
49175 Banks Power Torquetubes Ford F53 Class-A 11-15 V10
Part # 49175
Description:
One look at Banks TorqueTubes tells you how radically different they are from the stock exhaust manifolds. Constructed of heavy-wall, 400-series stainless steel, TorqueTubes have 1/2-inch-thick flanges that are welded on both sides and then machined perfectly flat (no gaskets needed). They never crack, leak or fail.
Banks' streamlined, stainless steel TorqueTubes are the industry's only parallel 5-tube exhaust manifolds for RVs. Unlike competitors who add a separate tube length to a 4-tube formation, Banks integrates five tuned-length tubes into a design that allows rotational firing of the cylinders through the exhaust, minimizing backpressure and maximizing torque. Now your Ford climbs faster and stronger, without the transmission struggling between gears. The muscle to stay in higher gears longer not only stops annoying "shift happy" performance, it lessens the load on your engine and transmission. Here's power to reach freeway speed sooner for safe merging and passing.
53071 - Ford F53 V10 Performance Muffler
Part# 53071 - Ford F53 V10 Performance Muffler
This is a direct replacement for the Ford F53 muffler, minus the factory flanges which should be reused. This muffler flows much more air than the factory muffler and has been proven to increase performance and extract exhaust heat from the engine. These gains are also achieved while still retaining the factory mellow sound. We have seen on average a 10 horsepower increase with this muffler installed when tested on the chassis dyno.
Applications:
· Ford F53 V10 Motor home 1999-2015
Benefits:
· Gains of 10 HP and 15 lb-ft TQ
· Gains of .25-.5 MPG
· Downshifts less approaching hills
The state of California requires that this warning be posted for people purchasing products that reside in California.
WARNING: Products may contain one or more chemicals known in the State of California to cause cancer and/or birth defects or other reproductive harm. For more information, visit www.P65Warnings.ca.gov