Ford F53 16-19 V10 Performance Package Stage 3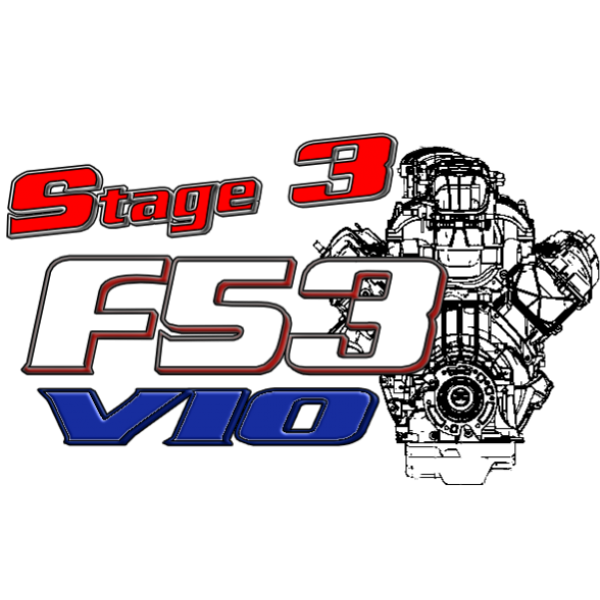 PLEASE READ!!!
Order Shipment Notice:
Most orders are shipped within 24 hours from the order date. Orders placed on the weekend or after cutoff on Friday, and orders placed on select holidays are processed on the next business day. Please see our shipping terms for more information.
Ford V10 UltraPower Custom Tuning
Part#UPFORD
Description:
UltraPower Custom Programming is the best modification you can make to your Ford 6.8L V10 for both performance and fuel economy for the price. For example, from the factory the V10 engine is de-tuned and in the 2V application (99-05), the fuel system will not go into Power Enrichment, or Open Loop, so you will never achieve maximum power when climbing hills. Probably the most noticeable difference will be the elimination of the annoying downshifts that occur at even the slightest of hills. Because of the changes made to both the engine and transmission, you will be able to maintain higher gears for much longer and under a higher load...this alone makes a great deal of difference in driving comfort. UltraPower Custom Tuning also works very well in conjunction with aftermarket headers, exhaust and intake, such as the Banks PowerPack.
Applications:
· 1997-2019 Ford 6.8L V10Engine
· Both 2 & 3Valve Applications
· Used in Ford Trucks andRV Chassis
Benefits:
· Gains of 40-55 HP and45-70 lbs TQ
· Gains of 1/2 - 1 MPG
· Downshifts much lessapproaching hills
· 60 days of tunepreference changes. If you want something changed or modified after 60 days youwill need to purchase our Tune Update for $50.
49383 Banks Power TorqueTubes Ford F53 Class-A 16-19 V10
Part # 49383
Description:
Remove airflow restrictions with this complete intake and exhaust system! More Power, optimum engine efficiency and cooler engine temps are achieved with this kit. The Banks PowerPack delivers more horsepower and torque to your V-10. Rockets you up grades faster and chops time off your 0-60 mph time. With PowerPack's engineered intake and exhaust upgrades, your rig will pass and merge a whole lot easier and more safely - and you'll get more MPG, too! Banks' streamlined, stainless steel TorqueTubes are the industry's only parallel 5-tube exhaust manifolds for RVs. Unlike competitors who add a separate tube length to a 4-tube formation, Banks integrates five tuned-length tubes into a design that allows rotational firing of the cylinders through the exhaust, minimizing back-pressure and maximizing torque. The thick, 5/8 inch flanges never warp or leak.
PowerPack System Includes:
Ram-Air Intake

Monster Exhaust System

TorqueTube Exhaust Headers
The state of California requires that this warning be posted for people purchasing products that reside in California.
WARNING: Products may contain one or more chemicals known in the State of California to cause cancer and/or birth defects or other reproductive harm. For more information, visit www.P65Warnings.ca.gov