Sprinter 3500 Suspension Kit (2007-2016)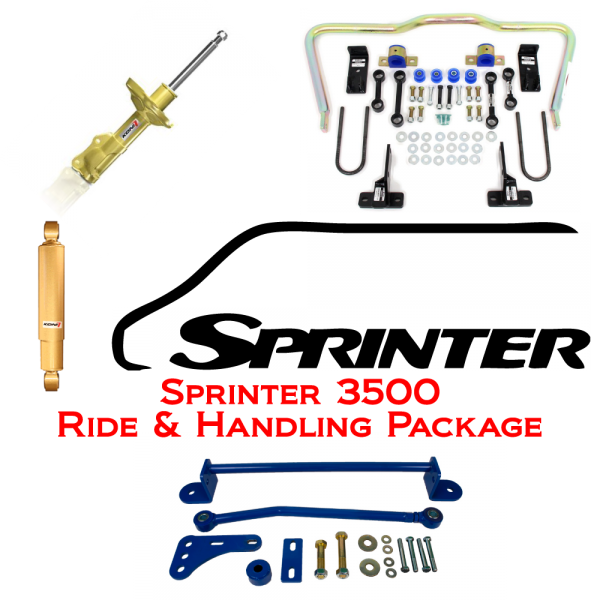 PLEASE READ!!!
Order Shipment Notice:
Most orders are shipped within 24 hours from the order date. Orders placed on the weekend or after cutoff on Friday, and orders placed on select holidays are processed on the next business day. Please see our shipping terms for more information.
Are you tired of the white knuckle drive you've been experiencing driving your Sprinter Chassis RV? Would you like to feel confident in letting your DW take the wheel from time to time? This package will transform the handling and ride of your Sprinter chassis RV. No longer will you be fighting the steering wheel in winds and push from passing vehicles. No more jarring over expansion joints and pot holes. This package will put the enjoyment back into traveling the country.
After completing extensive ride testing of various chassis upgrade products from several manufacturers, Ultra RV Products has assembled the most effective, enhanced ride and handling package available at the lowest possible price. The Sprinter Ride Enhancement Kit is designed to reduce steering effort, eliminate sway and wander, smooth out the ride, reduce fatigue and add safety to your drive.
Description:
Roadmaster anti-sway bars deliver a remarkable improvement in stability and vehicle control for today's most popular motorhome chassis. Kit #1259-131 is an inch and a half diameter and is designed to be used in conjunction with the factory box style anti-sway bar for improved stability and handling.
Designed for easy installation, Roadmaster anti-sway bars are made from cadmium plated 4130 chrome moly steel and ship complete with all necessary mounting hardware, polyurethane bushings and instructions.
Description:
Koni Heavy Duty adjustable shock absorbers feature independent compression and rebound adjustment that gives you control over large inputs and a smooth ride over highway roads. The external adjustment features allows you to increase rebound force to compensate for wear, or tailor the ride to your preference. Koni adjustable shock absorbers allow you to tune your motorhome's ride to suit your preference!
Description:
Koni Frequency Selective Damping (FSD) shock absorbers provide superior handling characteristics without compromising ride comfort. The FSD is firm where you need it, such as through corners, but rides soft over expansion joints and rough roads. A special valve filters out annoying vibrations before they enter the vehicle, resulting in a smooth ride over a variety of road surfaces.
Description:
For use on the Dodge/Mercedes/Freightliner 3500 Sprinter with the exhaust exiting in front of the rear axle. If your exhaust exits behind the axle, modification of your exhaust pipe will be needed!
Are you over-steering your Sprinter just trying to go straight down the road? Do trucks passing or side winds push you around too much? Want better handling and less "White Knuckle" driving? We have designed our SuperSteer rear trac bar to positively locate the rear axle to prevent lateral motion. Our trac bars come complete with polyurethane bushings and can be easily bolted in with no drilling required. Hardware and instructions are also included.
The state of California requires that this warning be posted for people purchasing products that reside in California.
WARNING: Products may contain one or more chemicals known in the State of California to cause cancer and/or birth defects or other reproductive harm. For more information, visit www.P65Warnings.ca.gov