WC-45001 - Chevrolet 4500 Wireless Leveling System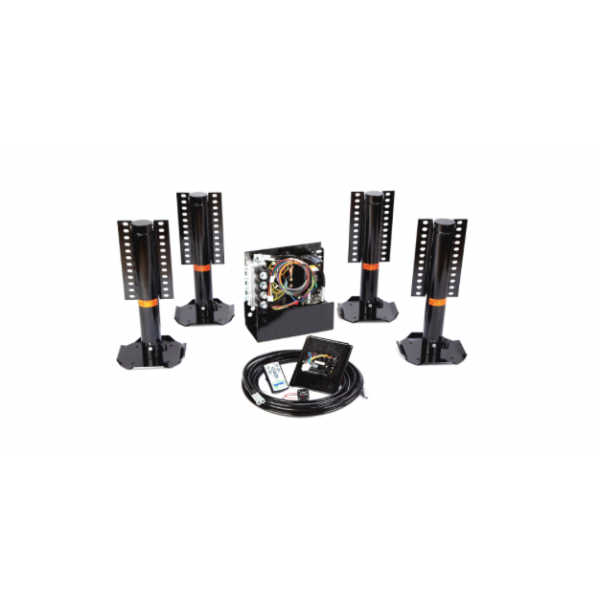 PLEASE READ!!!
Order Shipment Notice:
Most orders are shipped within 24 hours from the order date. Orders placed on the weekend or after cutoff on Friday, and orders placed on select holidays are processed on the next business day. Please see our shipping terms for more information.
Additional Costs Notice
READ ME!
Please be aware that installing a leveling jack system is a custom installation and may require additional labor and/or parts. These kits require mounts to be attached to the frame rails. In some cases additional labor is necessary to move objects that are in the way or pose a danger for installation or use of the system.
Motorhomes are not all the same, even if you have the "same" model as your friend. Body builders generally do not not always assemble them with the brackets and other objects in exactly the same place. Locations may vary just enough to require relocation on one and not on the other.
Listed here are some examples where additional costs would be incurred.
Example 1- Safety Hazard: If the fuel tank is too close to a location that a jack mount must be welded, the fuel tank would have to be removed before welding on the jack mount to the frame, then reinstalled.
Example 2 - Obstruction: If a body mount is in the way of mounting a leveling jack, the body mount would have to be modified or moved to allow for installation of the jack and mount.
Example 3 - Additional Parts: If the space available to mount the pump assembly does not allow for mounting it directly on the jack or close to the jack, the hoses that were provided in the kit may not be long enough to reach. In this case new longer hoses will have to be purchased to complete the installation. (This also may require more time)
For situations like these, additional labor and/or parts will be required to complete the installation of the leveling system that is not shown in price listed.
Part# WC-45001
Description


Introducing our vehicle specific leveling system. Designed for specific vehicles and their leveling system application (cylinder size, frame & ride height, etc.)

Quick, one touch operation that automatically deploys the jacks to bring the front level with the rear and stabilizes the entire vehicle in just over 30 seconds!

On the fly manual adjustment feature that allows you to quickly operate each cylinder individually or in pairs.

All-Up safety feature signals if one or more of the cylinders are not fully retracted before you drive off.

Four powder coated cylinders made at our facility rated to lift 8,000 pounds per cylinder.

One weatherproof hydraulic power unit with an American made marine pump & motor wrapped in a steel housing, allows the unit to be mounted outside in the elements so it does not take up storage space.

100 square inch "Bigfoot" pads for secure ground contact during operation.

All necessary components and hardware for a complete installation!

*This system does not have an inclinometer and does not read a level plane like the Bigfoot Automatic Leveling System.
The state of California requires that this warning be posted for people purchasing products that reside in California.
WARNING: Products may contain one or more chemicals known in the State of California to cause cancer and/or birth defects or other reproductive harm. For more information, visit www.P65Warnings.ca.gov