49548 - Banks Power TorqueTubes Workhorse W24 (No H-Pipe)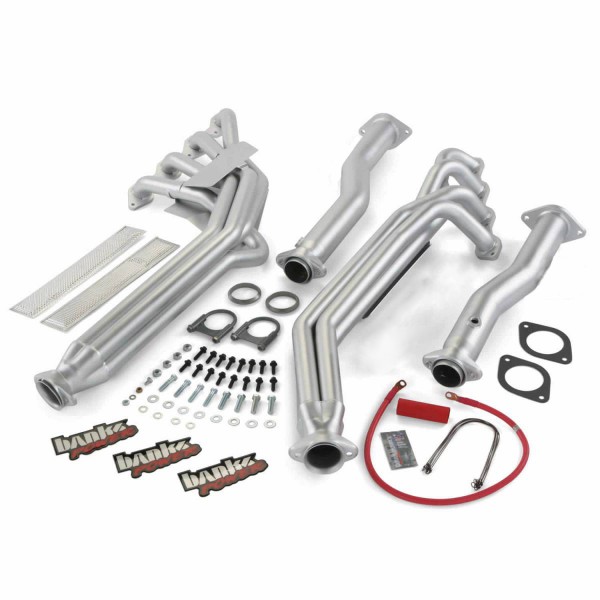 PLEASE READ!!!
Order Shipment Notice:
Most orders are shipped within 24 hours from the order date. Orders placed on the weekend or after cutoff on Friday, and orders placed on select holidays are processed on the next business day. Please see our shipping terms for more information.
Part # 49548
THIS KIT DOES NOT COME WITH AN H-PIPE AS SHOWN IN THE IMAGE!
Description:
One look at Banks TorqueTubes tells you how radically different they are from the stock exhaust manifolds. Constructed of heavy-wall, 400-series stainless steel, TorqueTubes have 1/2-inch-thick flanges that are welded on both sides and then machined perfectly flat (no gaskets needed). They never crack, leak or fail.
TorqueTubes tuned-length tubes produce a huge reserve of low-end torque that proves its worth on every steep grade and short onramp. Now your Workhorse climbs faster and stronger, without the transmission struggling between gears. The muscle to stay in higher gears longer not only stops annoying "shift happy" performance, it lessens the load on your engine and transmission. Here's power to reach freeway speed sooner for safe merging and passing.
Torque Tube Exhaust Header System for use with 2005-2010 GM 8.1L W24 Motorhome no EGR
Virtually indestructible 100% Stainless Steel
Mandrel-formed tubes tune exhaust flow for maximum torque
Maximize exhaust extraction
Flanges welded on both sides, then milled flat
Seamless high-velocity collector
Pulls exhaust and slashes backpressure
Includes heatshielding
5/8 inch thick flanges won't warp or flex
Emissions compliant: CARB EO D-161-79
Fits W-24 chassis, No EGR
Applications:
The state of California requires that this warning be posted for people purchasing products that reside in California.
WARNING: Products may contain one or more chemicals known in the State of California to cause cancer and/or birth defects or other reproductive harm. For more information, visit www.P65Warnings.ca.gov