ScanGaugeIII OBD2 Vehicle Monitor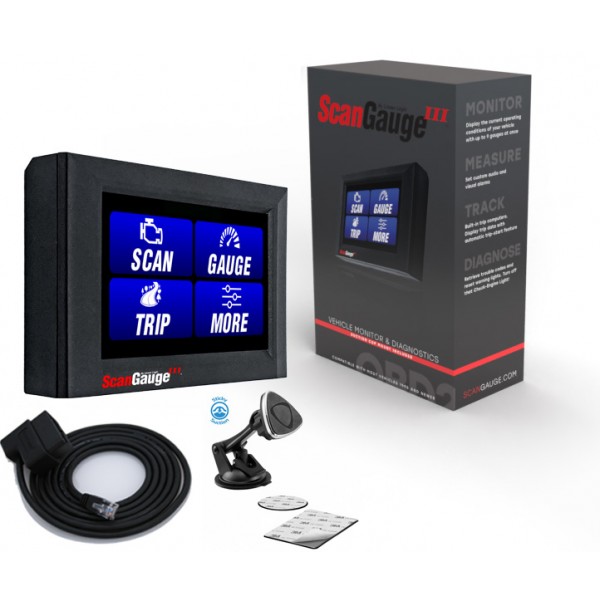 PLEASE READ!!!
Order Shipment Notice:
Most orders are shipped within 24 hours from the order date. Orders placed on the weekend or after cutoff on Friday, and orders placed on select holidays are processed on the next business day. Please see our shipping terms for more information.
ScanGaugeIII can help you monitor your vehicle's most vital systems and provide the kind of real-time information you've been missing. Features include built-in digital gauges, 5 sets of trip data and an easy-to-use Scan Tool that shows both set and pending trouble codes — All in an ultra-compact design.
ScanGaugeIII installs in just minutes without tools and does not require batteries or an external power source. All data and power are derived from the single OBDII connection, which is present on all 1996 and newer cars, light trucks & RV's.
· Compatible with all OBDII protocols
· Capacitive Touch Display with over 16 million colors
· Read Trouble Codes & Clear Check Engine Light
· Multiple Trip Computers
· Automatic XGauge Configuration
· Customizable Visual and Audible Alarms
· Up to 9 Gauges Displayed at Once with Multiple Pages of Favorites
· Free Wireless Updates
6-Foot Cord and Magnetic Window Mount
The ScanGaugeIII can be mounted up to 6 feet from the under-dash diagnostic connector. The included Suction Cup Windshield Mount allows the ScanGauge to be quickly detached and then used to troubleshoot other vehicles.
User-Friendly Capacitive Touch Display
Simple touch operation allows you to access the powerful features of the ScanGaugeIII quickly and easily. Swiping two fingers up or down will raise and lower the brightness!
Automatic Protocol Determination
ScanGaugeIII automatically determines the protocol your vehicle uses and connects, it doesn't get any easier!
Learn to Improve Your Gas Mileage
The US government has put out a report that says driving habits can change fuel-economy by up to 33%. ScanGaugeIII provides real-time data about your vehicle's instant and average fuel economy, fuel used, cost of fuel used for each trip, cost per mile, gallons per hour and more!
Troubleshoot Your Vehicle
ScanGaugeIII can help you diagnose and troubleshoot problems by providing real-time data about your vehicle's performance. In addition, ScanGaugeIII will display captured trouble codes and conditions when problem occurs. With the ScanGaugeIII you can "pull the codes", make your own repairs, and turn off warning lamps just like the Pros.
Catch Problems Early
ScanGaugeIII provides real-time gauges to show you what is going on "under the hood" with built-in digital gauges. The gauge screen allows you to select and display up to 9 gauges at a time, so you can monitor the current operating conditions of your vehicle in real-time.
Automatic Trip Computers
With four built-in trip computers, the
ScanGaugeIII
can keep track of everything from fuel cost to distance traveled and everything in between. Data is stored on ScanGaugeIII and is retained even when the power is disconnected. Each trip computer starts automatically, and information is available anytime during the trip.
The state of California requires that this warning be posted for people purchasing products that reside in California.
WARNING: Products may contain one or more chemicals known in the State of California to cause cancer and/or birth defects or other reproductive harm. For more information, visit www.P65Warnings.ca.gov