SPWEX6000 - UltraPower 6.0L Extreme Magnum Workhorse Spark Plug Wires (2007+ LY6 Engine)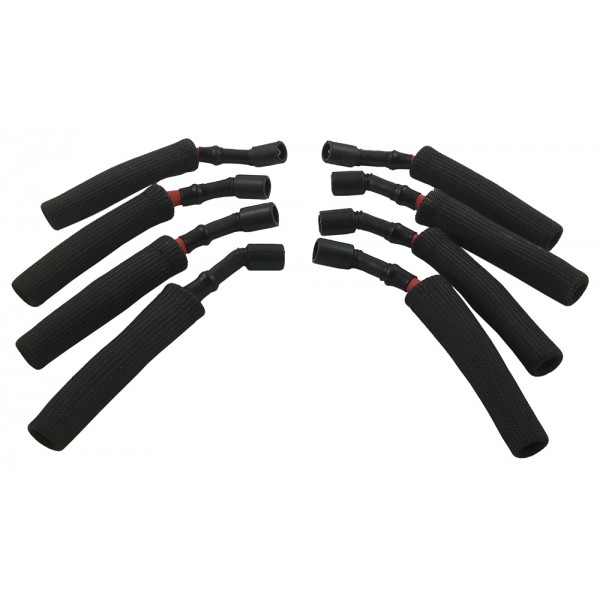 Made in America
Verified to have been manufactured in the USA
PLEASE READ!!!
Order Shipment Notice:
Most orders are shipped within 24 hours from the order date. Orders placed on the weekend or after cutoff on Friday, and orders placed on select holidays are processed on the next business day. Please see our shipping terms for more information.
Part# SPWEX6000 - UltraPower 6.0L Extreme Magnum Workhorse Spark Plug Wires
Please verify that you have the LY6 engine (short wires). If you have the longer wires (LQ4 Engine) please purchase the SPW8100 or SPWEX8100.

Description:
These are the mack-daddy of all spark plug wires! Never burn another wire again!
UltraPower Extreme Magnum Spark Plug Wires are patent protected because of the unique method of producing these wires which have extremely low resistance while maintaining very high noise suppression. The benefit of this invention is that full electrical energy from the ignition source is transmitted to the spark plug. The end result of the application of this method is increased horsepower, torque, fuel economy and a smoother running engine.
Features:
Patented Solid Stainless Steel Core Spark Plug Wires with RF Eliminator
The technology in these wires come straight from Nascar and is not available on the open market. They are made out of a patented zero OHM, solid core stainless steel wire wrapped by silver plated copper conductor wire and are outfitted with an RFI eliminator collar that guarantees no interference with radios.
These wires eliminate the need for the GM factory metal heat shields.
Wires are sleeved from top to bottom with high temperature fiberglass/acrylic socks that will withstand up to 1500

º

F & 1000

º

F continuously.
These wires were engine dyno tested for 2500 hours under wide open throttle conditions and were the only wires that could hold up to those conditions. Even ceramic wires wouldn't last.
Increase power to the spark plug up to 400% over stock!
Adds up to 15HP on Big Block GM engines.
True Life-Time Lasting Wires, Life-Time Warranty!
The state of California requires that this warning be posted for people purchasing products that reside in California.
WARNING: Products may contain one or more chemicals known in the State of California to cause cancer and/or birth defects or other reproductive harm. For more information, visit www.P65Warnings.ca.gov