UP95G - Heavy Duty Lift Pump for Cummins ISB / ISC / ISL CAPS Fuel System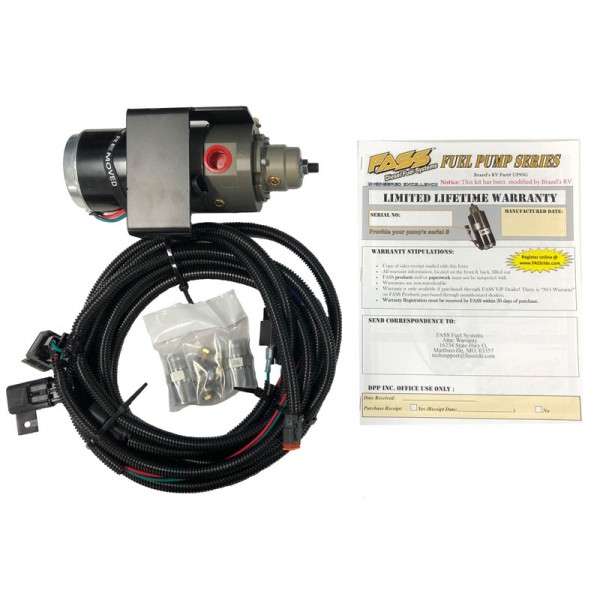 PLEASE READ!!!
Order Shipment Notice:
Most orders are shipped within 24 hours from the order date. Orders placed on the weekend or after cutoff on Friday, and orders placed on select holidays are processed on the next business day. Please see our shipping terms for more information.
Made in America
Verified to have been manufactured in the USA
Part# UP95G - Heavy Duty Lift Pump for Cummins ISC & ISL CAPS Fuel System
***Our price includes technical assistance for installation***
Note: This pump will not have the correct fittings or fuel hose in it for an RV application since they are all different, you will need to source fittings and hose locally. Included is the wiring harness, pump and mounting bracket.
Applications:
1998.5-2003 Cummins 5.9L ISB (275/300HP) VP Fuel System
1998.5-2005 Cummins 8.3L ISC (315/330/350HP) CAPS Fuel System
1998.5-2003 Cummins 8.9L ISL (380/400HP) CAPS Fuel System
This heavy duty adjustable fuel pump is designed to meet the demands of the added strain of a performance module on the CAPS fuel system. The CAPS fuel system is known to be a weak fuel system as the factory lift pump only engages for the first 30-45 seconds after the key-switch is engaged. After this, the CAPS pump "pulls" the fuel and acts as the only pump in the system. By adding this heavy duty pump, not only are you taking away a lot of stress on the CAPS pump but you are also providing a steady flow of fuel that will help cool and lubricate the pump to increase the reliability and longevity of the CAPS pump. This adjustable pump is rated at 95 gallons of diesel fuel per hour and come preset at 15 PSI. Using a 1/8" Allen plug, you can make a quick clockwise adjustment to increase pressure or counter clockwise to decrease pressure.
The state of California requires that this warning be posted for people purchasing products that reside in California.
WARNING: Products may contain one or more chemicals known in the State of California to cause cancer and/or birth defects or other reproductive harm. For more information, visit www.P65Warnings.ca.gov